Edible Pedal 100 Celebrates Northern Nevada's Food Culture.
Written by Amy Harris
Riding a century through Northern Nevada is the best way to see the local landscape and the best way to celebrate that landscape is through local food and drink.
Farmers, ranchers, food artisans, vintners, brewers, other business owners, and volunteers contributed their time and resources to the event last year. From homemade energy bars created by local culinary programs and local eggs at rest stops to grass-fed beef; local lamb, pork, and goat; and free-range and organic chicken at the post-ride barbecue, Edible Pedal 2011 was made possible by the community.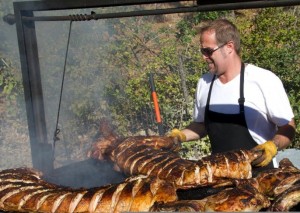 Colin and MaryBeth Smith of Roundabout Catering in Reno prepared the delicious barbecue that cyclists enjoyed after pedaling around the route. Pitman Family Farms for Mary's Chicken in the San Joaquin Valley, Hulsman Ranch in Susanville, Ranch One in Genoa, Kenland Farms in Reno, Collis Ranch in Silver Springs, Montero Goat Farm in Fallon, and GirlFarm in Reno provided free-range chicken, grass-fed beef, lamb, pork, goat, and heirloom farm-fresh eggs.
Local farmers provided fresh, seasonal produce. Garlic came from Mewaldt Organics in Fallon, herbs from Salisha's Delicious in Fallon, greens from Spanish Spring Greens in Reno, melons and tomatoes from Lattin Farms in Fallon, potatoes from Winnemucca Farms in Winnemucca, onions from Peri & Sons Farms in Yerington, and various produce from Scott Huber and his students at the Reno High School Sustainable Agriculture and Urban Garden. All demonstrate that a great deal of delicious food is grown in Nevada.
Local food artisans contributed treats to fuel riders as well. House of Bread in Reno, Kimmie Candy in Reno, Absolutely Michelle's in Washoe Valley, Nature's Bakery in Carson City, Haven on Earth in Reno, and Cups N Cakes in Reno provided their speciality items at rest stops and the barbecue.
The list of local providers goes on. Wine came from Churchill Vineyards in Fallon, Tahoe Ridge Winery in Minden, and Nevada-based Southern Wine & Spirits. Beer came from Great Basin Brewing Co. in Reno and Sparks, Silver Peak Brewing in Reno, and Buckbean Brewing in Reno. Kombucha came from Kombucha Botanica, dairy products came from Model Dairy in Reno, water came from Red Rock Water in Reno and Haws Corporation in Reno's Hydration Station, and coffee came from The Hub in Reno and Alpen Sierra Coffee in Minden.
Large-scale food distributors also contributed to the event, including Sysco, US Foods, C&M Food Distributing, Foodsales West, Bay Brokerage, and Bonanza Produce. Darrin McKillip, executive chef of Circus Circus Reno, provided speciality Danish and other pastries, red potatoes, hummus, pretzels, and a great deal of other food; Bakemark in Reno contributed cookie ingredients; Camelot Rentals donated coffee makers; Crystal Ice kept everything cold; and ECO Disposables donated recyclable plates, napkins, and utensils.
After riding around the vast, open, and beautiful high-desert landscape it makes sense to celebrate the food that comes from the land. This year, celebrate the abundance of the desert at this community event that features unbeatable views and delicious food!